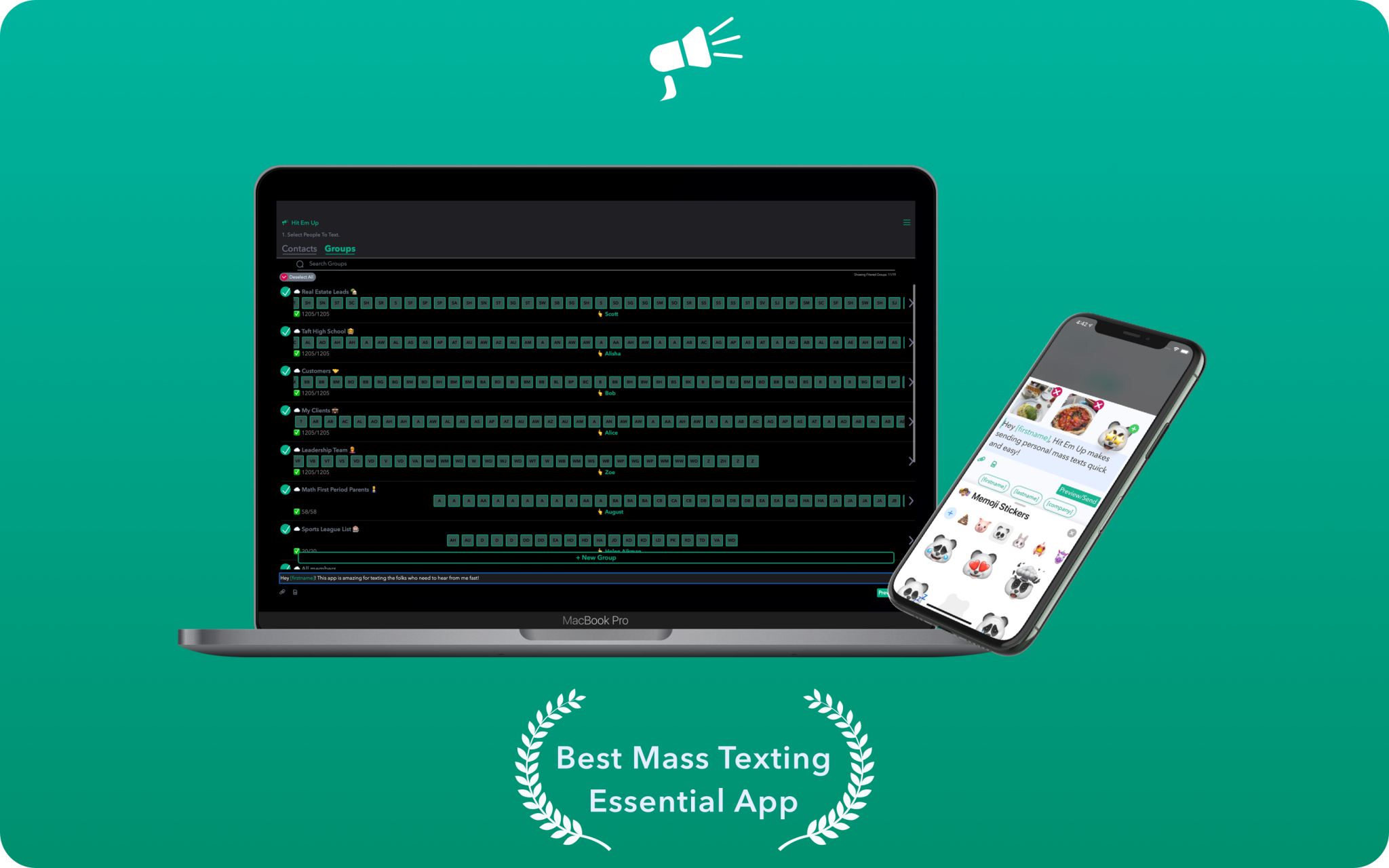 Your favorite Mass Text and Group Texting App Hit Em Up, Mass Text and Bulk SMS is now in open beta available on the Mac! Click here to get.
You read that right. This is the first ever fully native Mac App that lets you send genuine mass text messages with recipients names in them in quick succession to a lot of people via iMessage, SMS (when tethered to your iPhone), Group Text, WhatsApp, and more! No more messy group texts.
Your life just got way easier. Because Hit Em Up integrates directly with your Mac's Contactbook, dragging in CSV files and vCards to your Mac's addressbook app get reflected in real time directly in Hit Em Up. You can even create your own lists within Hit Em Up directly by selecting who you want to send to and giving the group a name and text from computer!
Hit Em Up leverages the power of your existing iCloud Contact Account to sync all your groups from your computer to your iPhone or iPad too so you can send from anywhere on any device.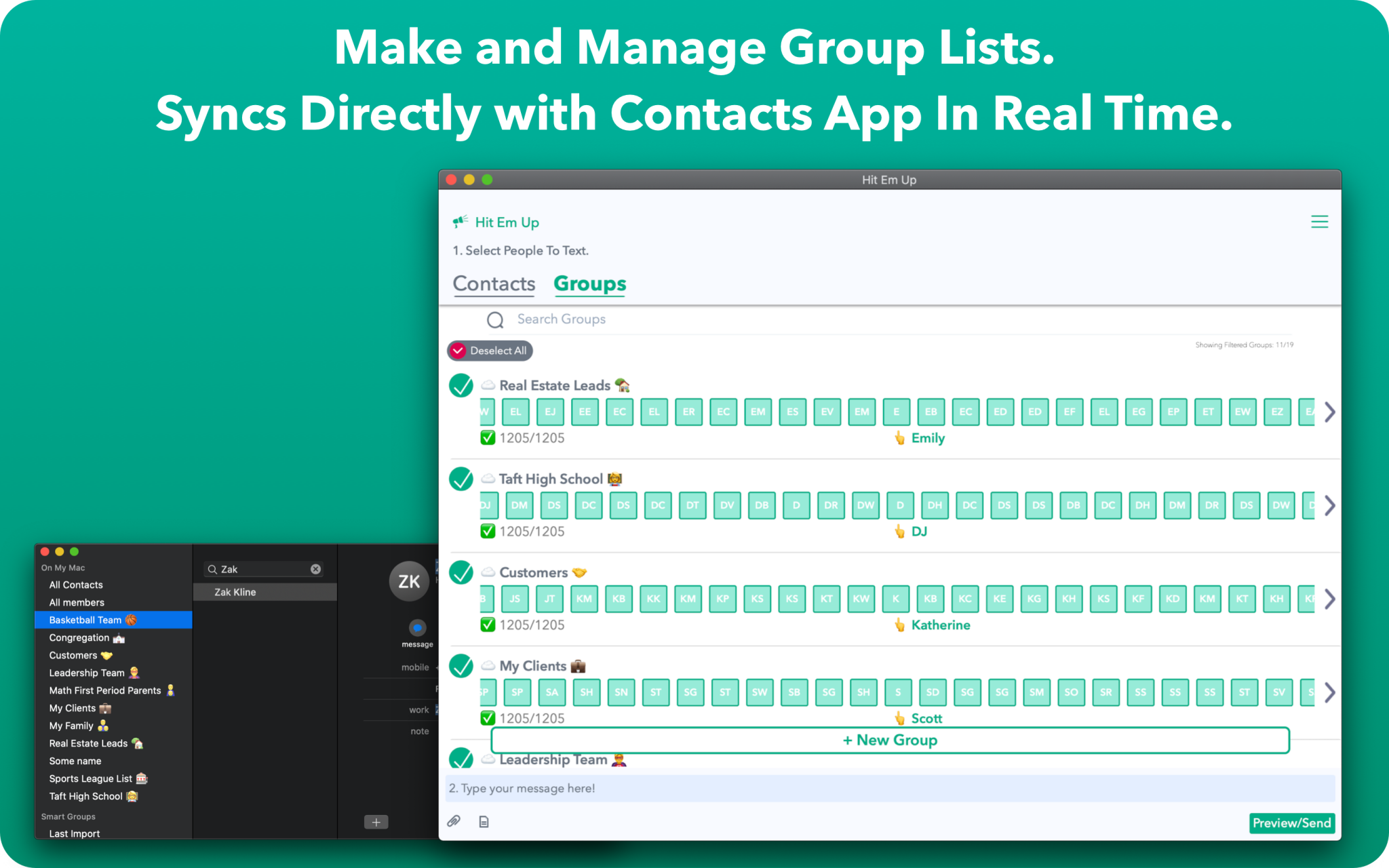 This is massive news not only for the thousands of existing Hit Em Up customers who get to use this Mass Text App on their Mac at no additional charge to their existing membership, but to all the folks who are just getting started with us who need to text their students, customers, congregations, and teams.
While Hit Em Up for Mac, iPhone, iPad and Android can also send personalized e-mail blasts, the true power of Hit Em Up is it's 98% open rate personal texting technology. Our users have increased their sales in some cases 200% with Hit Em Up Mass Text. Others have used the technology to get vital emergency information to hospital workers in COVID-19 units when emergency strikes and the intercom alone doesn't cut it. What can you do with a 98% open rate for your messages?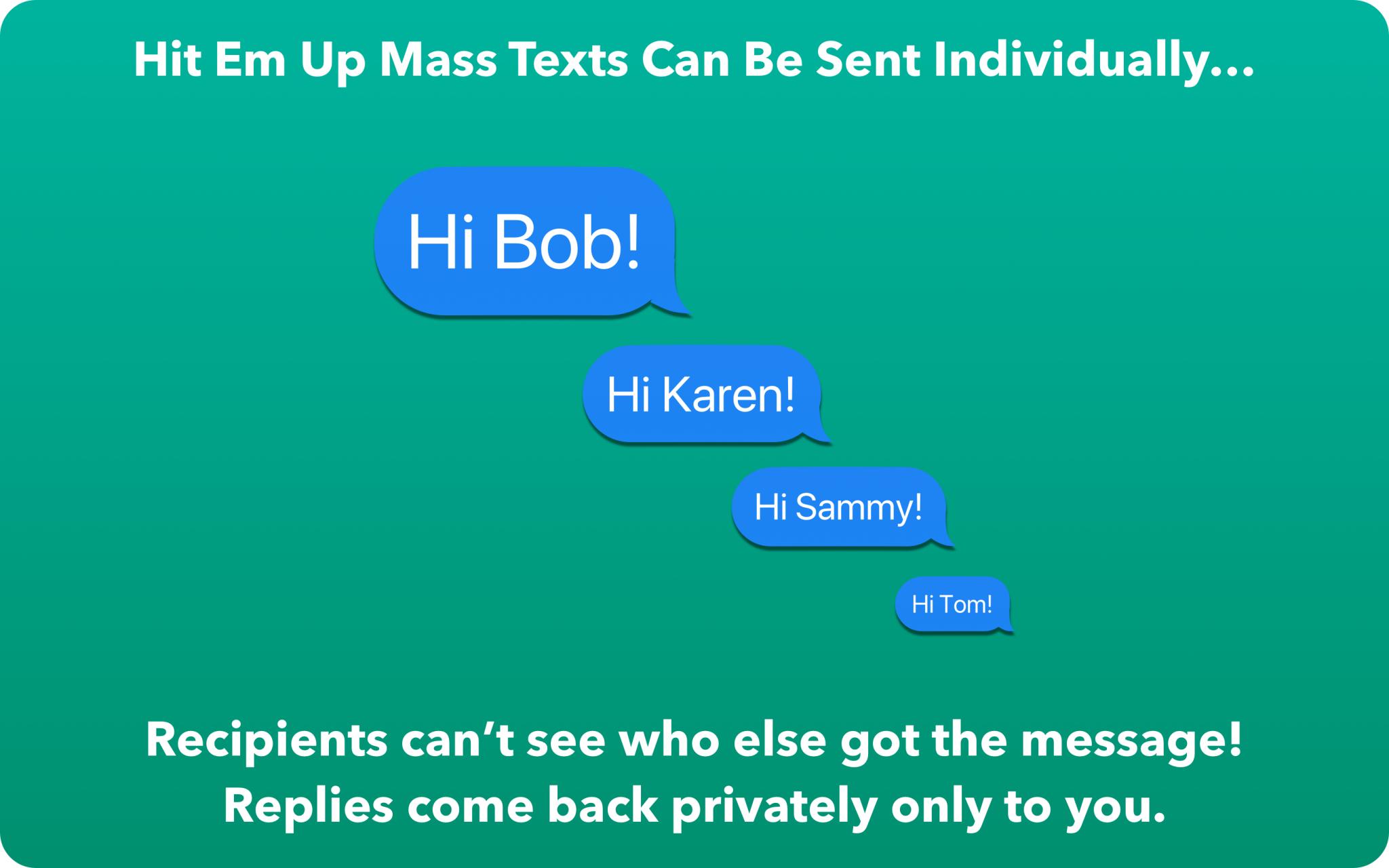 And sending texts with Hit Em Up is sooo much easier than doing it manually. Hit Em Up speeds up writing out personalized messages that are designed for maximum deliverability by offering tag inserts that ensure each message is unique and personal. Calling someone by name not only ensure the person feels that you are texting them personally and that they should not ignore your message, but it also plays a vital role in helping your messages meet USA telecom standards of personal texting so that your phone number doesn't get disabled or your messages get bounced back.
So how can you leverage Hit Em Up's personalized batch text repeater functions?
Download Hit Em Up now on your Mac, iPad, iPhone, or Android Phone.

(iPad and Mac only Step): Setup text message forwarding to your iPhone so your Mac or iPad is SMS ready.

Make a list in Hit Em Up by pressing Create Group/New List and write your message to send!
It really is as easy as 1,2,3. Let us know how you like the new version of Hit Em Up Mass Text for Mac.
Comments
Commenting is temporarily disabled. If you need help press the support chat head in the lower right and talk to us directly! 😃